2nd Annual Mattress Sale 6/17/17
Our 2nd annual Mattress Fundraiser is being held on Sat. June 17th and we NEED LOTS of student volunteers to be door greeters and hold signs outside! The proceeds will help offset the cost for the Electrify Your Strings Concert for the orchestra and also go towards new risers and other needs for the choir.
If you can help out,
please fill out this form
or go to
http://bit.ly/bbhhsbeds2017
. Service hours and House Points will be awarded!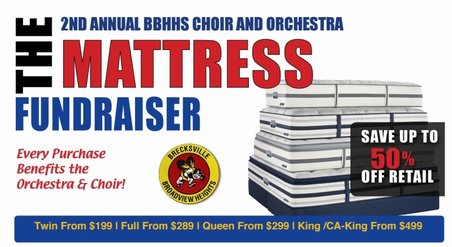 When: Saturday, June 17, 2017
Where: in the HS Cafeteria
Time: 10AM TO 5PM

On Saturday, June 17, 2017, BBHHS Choir and Orchestra Orchestra & Choir are pleased to host, once again, a one of a kind fundraising event. This event has been VERY successful for us, and in school districts all over the country for over 10 years. We are very excited to bring it back to BBHHS Choir and Orchestra. We hope this memo acts as a reminder that if you, or anyone you know might be in need of a mattress, please save the date and visit our mobile showroom.

This is a no pressure sale, just stop in and take a look. Even layaway and delivery are available to make it easy on you. It is a pleasure to be able to find a way to help our students while providing cost savings to our community and staff. We appreciate your support of our fundraiser and hope you spread the word to neighbors, family and friends.
---
2017-2018 Student Officers
Congratulations to next year's student executive board:

President: Jenna Shin
Vice President: Jaeyoung Yu
Corresponding Secretary: Jenny Lee
Recording Secretary: Erica Nie
Treasurer: Robert Hedrick

Class Reps, Librarians, and Set Up Crew will be announced soon!


Sign up for Remind.com message service
---
| | |
| --- | --- |
| Remind.com Messages | 2017-2018 BBHHS Calendar |